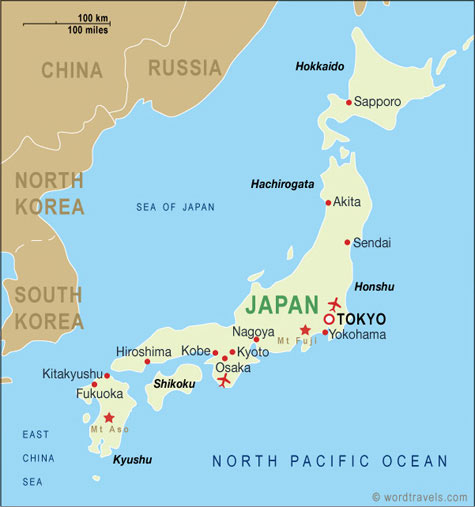 See Tokyo on this map (next to the airplane icon)? We've been in the Tokyo area for our 1st week in Japan. Naomi lives in Nakano, which is a "suburb" of Tokyo. Darin and I purchased a 7-day JR Pass, and we were going to start our trip with 2 days in Kyoto, which is located southwest of Tokyo and will take 3 hours and 15 mins to get there via
Shinkansen
(bullet train).
Darin and I packed the last few things in our bags this morning. As we were doing so, we felt.. another shake- our 2nd aftershock. This one was definitely bigger than the 1st one we felt, but again only lasted about 10 seconds. 10 seconds may not be long in time (in general), but it feels like a long time when you're in the middle of the aftershock quake. I was getting the ready in the bathroom and I saw the mirror shake, our beauty products were tremoring, and I could hear the door rattling. Everything looked like a blur. I called for Darin, and he was in the next room on the floor and felt it tremor beneath him. Nothing fell, nothing broke, but it was another reality check (and again, something that's now "normal" since the March events).
We left our Nakano home around 8am to walk towards the train station. We would be taking the train to Tokyo station (about 12 mins away), and from there take the
Shinkansen
(bullet train) to go to Kyoto to arrive by 11:50am. We had had beautiful weather our 1st week here, and today was cool, breezy, cloudy- it definitely rained the night before. Since we took a regular train (from Nakano to Tokyo station) and the bullet train (from Tokyo to Kyoto station), we definitely noticed how
FAST
the bullet train was in comparison. The train ride was quiet and calm, and we arrived right around 11:48am in Kyoto. The Kyoto weather was similar to what we left in Tokyo- Rainy and cool.
We were so impressed by Kyoto's train station- it was beautiful! The "ceiling" was all glass, and the inside looked so new and shiny.
As we were exiting our train, I started smelling this incredibly delicious fresh waffle scent when I passed by this belgian waffle store called "Manneken", and immediately recognized the name and storefront. I was recommended to try their waffles, and while we were busy trying to get to our hotel, I made a mental note to try it the next time we were at the station.
We walked from Kyoto station and hopped in our free taxi shuttle to the hotel. When we got to the taxi station, we were so impressed with the efficiency. The minute we got there, there were already black taxis all lined up for Hyatt customers- doors were immediately opened for the both of us, we had 3 people moving our luggage (we only had 1 rolling luggage and 2 small backpack-type bags) into the trunk, and in true Japanese form, they bowed at us constantly thanking us for using their services and wish us well in our stay.
We reached the hotel, and because we had arrived prior to check-in, we left our bags at the front desk and they said they would deliver our luggage (free) to our room upon room readiness. This was great, and we left to begin our sightseeing. I was especially excited to see Kyoto, as it is known to be more traditional old Japan- narrow alley ways, lots of small shops, intimate settings (completely different from updated-looking Tokyo).
We were hungry for lunch so we decided to head back to Kyoto train station via bus and look for lunch near there. I really wanted some good ramen, and had been recommended to try 2 places- Shinpuku Saikan or Dai Ichi Asahi. I didn't know where they were located other than knowing it was close to the train station. I asked a random person walking on the street who told me directions- it looked to be about 10 minute walk away... no problem! We started our way, and right when I thought we were lost, I asked 2 girls walking and they laughed and pointed to the building in front of us. Even funnier- both ramen shops were right next to each other in the same building.
Dai Ichi Asahi (yellow sign) had a line, so we went to Shinpuku Saikan (red sign).
When we walked in, the ramen smell was intoxicating. The place was slammed, but they showed us to the upstairs area and we were able to sit down. This place is by no means super clean (as many ramen places aren't known for their cleanliness), but we were glad to see it was packed with people.
We were guided to a small table. Darin and I sat in front of each other, and they asked us if we could sit next to each other. The minute Darin sat down next to me, another couple was guided to our table to sit on the other side... wow, so packed that table resources were scarce. We did get menus, but we also saw them posted on the wall.
Since they were known for the ramen, we both ordered the Niku-Ome ramen bowl for ¥850 ($10.50)
.. and 1 order of their fried rice (Yakimeshi) for ¥500 ($6)
Water was free and you were able to get up and get it on your own
Here is a table close to us enjoying their hot bowl of ramen
Our ramen came quickly, and it looked and tasted divine
Our fried rice was huge and it also was great
After lunch, our first stop for the day was going to Fushimi Inari station, which is a Shinto shrine located in southern Kyoto. We used our JR Pass from Kyoto station to hop on the JR Nara train line to get off at Inari station.
It is known for its thousands of
torii
gates.
Torii
gates mark the entrance to a shrine. The shrine is located right as you exit the JR Inari station. Definitely can't miss it.
We are making our way up to the shrine...
Almost there...
Darin and I reached the shrine entrance
At the entrance, there were (2)
komainu
(guardian foxes) located at the entrance of the shine- 1 on each side. Normally,
komainu
are guardian dogs, but here, they were foxes.
When you walk past the shrine, there were some small shops selling souvenir goods, etc. on the shrine grounds.
As with larger temples, there is the main temple and usually some smaller temples on the same grounds where you can pray to. Here, there is a braided straw rope
(shimenawa)
with the white zigzag-like patterns (
gohei
). These indicate the boundary between you and a sacred place.
Shrines also sell
ema
(wooden plates where you can write well wishes) and hang them, hoping for their wishes to come true. I've heard that people tend to wish for good health, wealth, love, happiness, and success at work. Most of the
ema
I'd seen before were rectangular wooden plates, so I thought it was really cute that these
ema
were in the shape of
komainu
(guardian foxes) which we saw at the entrance of this shrine. You can see the extra creativity they draw on the
ema
This is another
komainu
(guardian foxes) that we saw on the shrine grounds
After we walked the grounds, we headed towards the back of the shrine to it famous thousands of torii gate hiking trail. When we found the hiking trail, you see (1) row of back-to-back torii gates next to each other.
On the back of each torii shows the year and from who it was donated from. The huge torii you see in these pictures can cost tens of thousands of dollars (the larger, the pricier) and are usually donated by businesses (or maybe very rich people? not sure about that).
Once you get through the initial torii gates, you come to a place where there are (2) rows of back-to-back torii gates right next to each other. We decided to take the left-side.
The
torii
gates were beautiful, but the surroundings outside was beautiful as well. The
torii
gates are located between lush greenery in the woods.
Once you hike up about 10-15 minutes, the
torii
gates end and you come to a place where they sell more souvenirs- looks like a "resting place". We also saw a few people standing in one place so we decide to go over and see what was going on. When we approached the area, we saw this sign.
Omokaruishi- This means heavy light rocks. If you felt this rock is light, you will get your wish
.
Visitors were lining up to see if the rock felt heavy or light.
Another part of this "resting place" was a place where you yourself can purchase a small torii and place it with the other small torii visitors have purchased. You can write any well wishes, the year, your name (whatever you want) on your torii.
You can also purchase
omamori
, which means "protection". Japanese can purchase this at shrines, and they carry them in their bag and ward off bad luck. You can find
omamaori
at sacred places (ie. shrines, temples) and they usually "protect" a single thing- health, studies, etc. Japanese usually carry this for one year, and then bring it back to the temple and purchase a new one every year.
After we explored a bit, we decided to head back to the main shrine, and took the other side of the (2) rows of torii (either side looked the same), and walked down the stairs towards the main shrine.
We explored the temple ground souvenir shops a bit more
These are called
daruma
, which is a round, hollow wooden doll. It looks like a toy, but has a sacred significance to it. These dolls are usually purchased for goal setting to bring good luck. You can see that the dolls have "white" eyes. What the Japanese do is circle in 1 eye only, and make a wish. Once the wish comes true, they circle in the other eye and say a prayer of thanks.
These are called
maneki neko
(
neko
means cat), which are seen in many homes and are said to bring good luck.
The souvenir shops also sell many charms
Darin spotted his first Japanese soft-serve ice cream- Strawberry and Vanilla
We decided we also wanted to visit Kiyomizu Temple (Kiyomizudera), and saw a guy making
takoyaki
(
tako
= octopus,
yaki
= grilled) on our way there.
Tacoyaki
is a popular ball-shaped dumpling fried in a round well pan. It is popular street food, and I used to eat it often at
matsuri
(festivals) when I was younger. The dumplings are filled with pancake-like savory batter, various vegetables are added (carrots, green onions, etc) and then a piece of
tako
(octopus) is inserted into the middle. The chef uses 2 long sticks to constantly turn the dumplings around until the round dumplings are golden brown all over. It's common to put Japanese mayonnaise and
takoyaki
sauce on top.
Here is a close-up of the special
tacoyaki
pan and what the dumplings look like
We hiked up the long steep hill in the Higashiyama district to get to Kiyomizu Temple. There were quite a few people walking up the hill so we just followed them. There were several signs to the Temple, so we felt reassured we were heading in the right direction.
We finally got to Ninenzaka stairs and saw a plethora of restaurants and shops. It was store after store after store of food and souvenirs. Although the Ninenzaka stairs were steep, it was a really pleasant walk where we experienced old Kyoto. The street was narrow, and I loved how it was lined with small cafes, shops, and boutiques. We just passed through here, stopping at a few stores on the way, so we could make it to Kiyomizu Temple before it closed @ 6pm, but we could have easily spent 1-2 hours browsing through the stores and trying the food.
Here they are selling Japanese fans, hats, etc
We spotted another Japanese soft-serve ice cream so Darin had to try it. I had been waiting to find a place that had traditional Japanese flavors (green tea, black sesame, red bean, etc), so when I saw this place had green tea AND cherry blossom mix, I had to try as well. (Mine was the cone with green/pink color combination.)
After finishing off our soft-serve, we got to the beautiful Kiyomizu Temple ("Pure Water Temple").
What is neat about this temple is that the wooden stage (in front of the temple) was built with the use of any nails, but instead, wooden beams.
Here is the close-up of the wooden beam
We walked up more stairs to get to the actual main hall
Here is the picture of the
ema
- Unlike Fushimi Inari's fox-shaped
ema
, this one looks like more traditional
ema
This temple had a fantastic view of its surroundings
Here is the main hall picture
The temple grounds were beautiful. To me, they were actually more beautiful than the actual temple itself
We were surrounded by lush greens everywhere
Here is the Kyoto skyline as the sun is setting- view from Kiyomizu Temple
We walked around the temple and saw a prayer service in session
From the main hall, we looked down and saw the Otowa Waterfall.
The Otowa Waterfall is located at the base of the temple, and is separated into 3 streams. Each stream water is supposed to have a different benefit (success at school, good love life, etc). Here, visitors drink a small cup of water from one of the streams.
On our way down the stairs, we saw little cafes lined the temple grounds. The grounds were lush, green, and plentiful, so we can only assume the restaurant view was amazing as well.
When we finished exploring the temple, we walked back down the Ninenzaka stairs, and I got another soft-serve. I saw Hello Kitty in a kimono- so cute!
Cute sushi set
Lots of cute sushi sets
You see these soft-serve cones everywhere in Japan. Since Darin couldn't read Japanese, he always knew when a store sold soft-serve by these cones on the storefront.
We also saw a rickshaw guide pulling 2 people
We were pretty tired by then, so we decided to take the Kyoto City Bus to go to Gion and Pontocho Alley. On our way there, the bas passed by Yasaka Shrine (though we didn't get to go).
Here is Gion! The street is lined up Japanese lanterns and lots of stores.
We definitely saw more people here that dressed in traditional kimonos not only visiting temples, but being out and about
We especially loved the Kamo River (Kamogawa) that flowed through the main downtown area of Kyoto
It was getting close to dinner time and we were starting to get hungry, so we went to the popular Pontocho Alley to look for some dinner. We had heard this area/street would not only be a popular place to find a geisha (running from appointment to appointment), but also Kyoto's good nightlife filled with delicious restaurants.
We went through Pontocho Alley, and it was exactly that- an alley. The alley was lined with beautiful restaurants, tea houses (
ochaya
), and yakitori shops. We loved the red and white paper lanterns that filled the alley.
Many restaurants had menus posted on their storefront, and many also had English versions if you asked (or in our case, since they heard us speak English, they said- "English menu?"). While we walked and looked at various menus trying to decide where to go, guess what we saw? A geisha!
Maiko
are geisha apprentices. We didn't know if we were seeing a geisha or maiko, but we were enthralled by her, her outfit, and her makeup. The kimonos they wear were so beautiful with rich fabric, and I loved how perfect their makeup looked. Here is the back of the geisha's kimono.
I really couldn't take pictures fast enough since they were moving so quickly between appointments (we assumed), and I didn't want to be the aggressive paparazzi-type visitor, but we were so excited to finally see one.
The sun started setting and it signaled that we should try to find a place to eat soon. After looking at many menus, we picked a cute restaurant called Amanogawa that served a "sakusaku" course which consisted of an appetizer, assorted sashimi, steak or tempura, rice, and sorbet.
This cost ¥2,980pp ($37pp), and it seemed to be the norm in the area.
This whole dinner is considered
nihonshou
, which is "Japanese food". The Japanese pride themselves in not only the Japanese ingredients they use to make the food, but presentation is extremely important as well. Japanese meals always include many little dishes so the servings are small, but you get to try many things. We had no idea what we were eating most of the time, but we thought every dish was presented so beautifully and I took a lot of picture. Here is some of our appetizer. It looks green, and the texture was somewhat spongy.
Here is our sashimi
They also brought us a round leaf-wrapped ball. When I untied it, a green ball was inside. The texture was somewhat chewy like
mochi
, and I thought it had a green tea flavor to it.
Inside this green ball was something jelly-like- I wasn't sure what it was but it tasted good
We also each got this clear soup
Can't have a Japanese meal without some
otsukemono
(Japanese pickled vegetables)
Darin ordered the steak with ponzu (a citrus-based sauce), and I ordered the vegetable tempura (Japanese vegetables that have been battered and deep-fried).
Here is my dinner:
For dessert, we received strawberry ice cream. The strawberries tasted so fresh, and we could both tell that this was homemade. It was delicious and creamy
We both liked the concept of the "sakusaku" course (several restaurants in the Pontocho Alley were offering the same type of course but with different entrees)- it was a great way to try a lot of new foods. However, the taste of the food wasn't great, and we were really let down with the food taste. We're still not sure if this is how it was supposed to taste or if the quality of food was poor. The presentation was beautiful, the restaurant was pretty, and it got pretty packed quickly. (Our only favorite food was the strawberry ice cream.) I loved the Pontocho Alley vibe- classy and elegant and old Kyoto feel, but we'll definitely try a new restaurant the next time we go back to Kyoto. For a bill that was over $70, we expected much better quality.
Here is Gion at night as the sun setting and the lanterns lit the way
Here is an evening picture of Gion district
After dinner was over, we passed over the Kamo River and headed back to our hotel via bus. We were definitely tired, and looked forward to our first night in Kyoto.