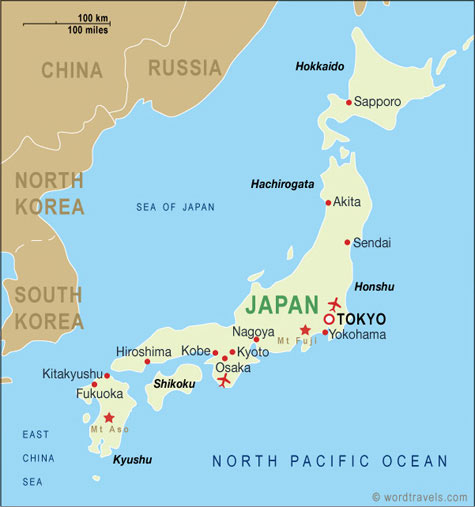 We are still in Hiroshima this morning and going to be in Gamagori, which is located 40 minutes from Nagoya) today.
Thankfully, I (and my stomach) woke up feeling much better- what a relief! We decided to grab some breakfast at Hondori and hit the stores we didn't get a chance to the day before. We had a bit of leisure time this morning as we didn't need to leave Hiroshima until 12:45pm to get to Gamagori station (where Tennomaru was located) until 4:26pm.
As we were perusing through Hondori, we once again came across Andersen Bakery. Since we didn't purchase any bread the day before (but were drooling at our last visit), we decided to check it out this morning. Talk about delicious looking food everywhere! We didn't know what to get. They had prepackaged foods, such as salad and sandwiches...
Mini rolled sandwiches (tuna salad, egg salad, ham sandwich, strawberry cream sandwich)
Yogurt with fresh fruit...
... and of course, lots of homemade bread (such as their famous sourdough bread)
... and lots of other varieties
Here is what we did end up getting:
1. Walnut Pretzel bread ¥210 ($2.60)- this was OMGood. Once we took a bite, we were pleasantly surprised to find that the pretzel was flaky, like a croissant. It was buttery goodness with a caramel glaze. We thought this was 1 of 2 of our favorites.
2. Denmark Hot Dog ¥273 ($3.40)- The inside wasn't a regular ol' American hot dog- it was a link of Japanese breakfast "sausage". Delicious, but wished this bread and sausage was warm
3. Sour Cherry Cake ¥315 ($4.00)- Not as moist as I had thought and hoped it would be, but still good. The chocolate flavor was subdued, and we loved the large bits of cherry pieces
4. Table Roll ¥95 ($1.20)- Good. Just a plain table roll
5. Shrimp Eggroll ¥336 ($4.20)- The eggroll was great. It was all shrimp and no filler. This was the 2nd of 2 of our favorites.
6. Fried Chicken ¥315 ($4.00)- Delicious, and great batter:chicken ratio
7. Croquette (Can't remember price)
Recap
: We thought it was pricey for 7 items ($20 without even including the croquette), but delicious. Other than the price, we wished the prepared foods (egg roll, fried chicken, and croquette) were warm- I bet they would have tasted much better!
Here were some of our contenders:
Red Currant and Pear Mousse Cake ¥452
Fruit Jelly (Grape) ¥599
We loved how the bakery had all see-through windows so you can see the food being prepared fresh and in-house
Darin got thirsty so he picked up a drink at McDonald's on Hondori. He ordered a medium Coke. Here is what a "medium" looks like in Japan. (It would probably equate to a US kiddie size)
We also passed this soft-serve place (no, Darin didn't get any this time) that served soft-serve in a sweetened bread roll. If we hadn't just eaten, I'm positive Darin would've jumped on it
Once we finished eating and persuing through Hondori, we walked back to the hotel, finished packing, and then headed to Hiroshima station to start heading towards Tennomaru- our next hotel.
I know we have professed our love for bidets, but if you need to use any train station bathroom, Hiroshima's can't be beat. It was so clean (it looked so new), and they had bidets (that reminded us of staying at the Hyatt hotels). Do you see the last option called "Flushing sound"? It is literally a flushing sound- that's it. (Darin tried it.) I asked my relatives about it, and they said sometimes people can't go and this sound assists them. Hmm, interesting... This public bathroom is more high-tech than my own bathroom. Not fair.
Not sure if I've mentioned before, but many train stations have great food to purchase for the train- Shinkansen trains, that is. They are called
ekiben
-
eki
= station and
ben
for
bento
, which is take-out meal. Here, the red sign reads "Hiroshima Ekiben" (ekiben in kanji).
We had several transfers to get to Gamagori station where Tennomaru is located. It really is kind of "out there" in terms of location, but we had and heard great reviews from
this blog
, so we made a point to reserve the exact same room class. I purposely reserved this hotel at the end of the week as a relaxation break. The hotel is located up a steep mountain, and there is nothing you can do in the area (and you really can't go anywhere except stay in the hotel). I figured it would give our bodies and feet a good rest to just relax. We picked the same hotel class as Jacqui with a Japanese dinner and breakfast included and our own private onsen (since Darin was a bit skeptical of going to a regular onsen).
Onsen
is a Japanese hot spring, and very common and popular thing to do in Japan. Where Darin was a bit apprehensive was the arrangements- most onsens are gender-separated. Thus, all the men stay together, and the women stay together. Not only would Darin and I be apart (read: language barrier since he can't speak), but you essentially are bathing in the nude with other men (or in my case, women) in the same hot spring. This concept is truly foreign to us Americans, but the Japanese think otherwise- It's a very popular and relaxing pastime.
Anyways, I digress... The hotel offers free shuttle pickup from Gamagori station (South exit). Our train was arriving in Gamagori at 4:26pm, and the hotel shuttle promptly was waiting for us as we exited the station. The driver was very nice, and quickly lifted our luggage into the hotel shuttle/van. He pointed us to where the hotel was located, which was literally on top of this large mountain (though only took 18-20 minutes to get there via van). It's the white building (though it looks gray here since it was a cloudy day) at the top left.
In this picture, it's located on top-right
We passed by beautiful mountains on our way there
Once we got to the hotel, this was the view from the entrance
View of the Pacific Ocean
Tennomaru Hotel
Several hotel employees greeted us as we got out of the car, and hit the gong to mark our visit
We were guided to sit down while they pulled up our registration
Once the initial check-in was ready, we were escorted to our room. We opened the door, and here is what we first saw. A
genkan
to take off our shoes
To our left was some shelving to place our belongings
To the right was our bathroom and separate sink area
Once we entered our room, there were traditional futons
The room was large and felt traditional Japanese (which we loved)
We had our own private balcony with
onsen
on it
This was our view from our balcony
Can't beat that
Here's another shot of our room
It had the sliding doors made of paper to hold our futons
I love how every one of our hotel rooms have a hot water heater and tea. Us Japanese love our tea
One of the other first things I noticed was the cigarette smell. I don't know if I just have a keen smell for it (Darin didn't think it was strong), but I just couldn't shake it. We loved the room- the tranquility, the ambiance, how it was different from the other hotels- but I couldn't past the scent. I waited for about 30 minutes and I just decided I couldn't do it. I called the front office, and they apologized profusely, and offered for us to change rooms. We did so, and they were very willing to do so, and apologized profusely. The next room still had a bit of cigarette scent it (can't remember if this hotel was non-smoking or not... I guess not) but more tolerable than our first room.
Once we moved, and I got a chance to relax a bit, I looked down and this is what I saw
He rested for an hour or so, and we got ready for our dinner at 7pm. (Earlier, before we headed to our room, we were able to choose our
yukata
patterns.) We were told that you could come down to dinner in normal clothes or to wear the yukatas provided. I will wear a yukata any chance I can get- it's so comfortable and light. Darin put his on, and surprisingly, his fit! For sure, we thought it'd be too short. It's not like 6' men are the norm in Japan, you know?
I also wore mine. I loved my pattern!
Tip
: There is a right and wrong way to wear yukatas. I apparently wore it the wrong way (the way you would wear it if going to a funeral), so I went to the bathroom and corrected it.
Here is a tutorial
on which way to wear it.
They also provided
geta
, which are Japanese wooden shoes, normally worn with kimonos or yukatas. I fit into mine, but Darin...
... not so much. I guess size 12 shoes are not the norm here. He ended up wearing his sneakers.
Here are mine- why do they make these shoes so darn narrow?
Kind of odd, but we loved the serene look of the elevators- very sky/heaven look
We got down to the dining area, and the ceiling looked like a bright sky with illuminating stars. Makes sense as "Tennomaru" stands for "The Circle of the Heaven". A lot of the decor has that theme throughout the hotel.
A dinner was included in our stay (after looking at
Jacqui's blog
, this was a huge reason why we decided to book a room here. It wasn't just a "dinner"- it was a multi-course Japanese-style dinner. They continued to bring out food and more food. We honestly didn't know the majority of what we were eating, but we tried everything. When we saw down, this is what we saw
We started out with a shot of strawberry-infused sake. (I thought it was a berry-infused drink, but not so much. Definitely a bit of alcohol in here.) Nonetheless, it was d-e-l-i-c-i-o-u-s.
We had this box in front of us...
... and inside were 2 foods.
Always pickled vegetables at dinner
Again, I had no idea what we were eating, but it all tasted good to me.
I loved this dish holder! Inside it was this...
To our left, we had our own small cast-iron pot with some fish and vegetables in a stock
Darin trying his
nabe
(cast-iron pot) food
There was also a cut tomato marinated in a soy-vinegar base. I remember this was especially delicious and refreshing
We had a stack of cards with drawings of food on it. Apparently, we were able to pick 3 items (there was a selection of vegetables, fish, shrimp) for our tempura. I chose shrimp,
kabocha
(Japanese pumpkin), and fish
The other options were: Mushroom and fish (not sure what the names are)
Lots of sauces to dip specific food into
Sashimi!
Darin doesn't like sashimi, so this was all mine!
Another dish that was out
Darin and I mid-meal
We also decided to order a snail delicacy, which we had the option to have it raw or cooked. We opted for cooked.
It came out on a bed of colored salt
We decided could not eat this. I can eat oysters, mussels, and clams... but I just couldn't get past the first bite. Glad I tried it though.
Next came out some steak
Then came our custom tempura
Since we were celebrating Darin's birthday (early), they came out with these mini dishes
Inside them were these rice bowls
Another hot bowl came out with this inside
... which was followed by this soupo
While we were there, there was a selection of 6-8 ice cream flavors, and I could tell Darin kept eyeing it during dinner. He finally broke down and got a bowl of vanilla ice cream during his meal
A chilled kiwi dessert gelatin-type dessert
Some rich chocolate cake
At the end, I succumbed and got some rum raisin ice cream (though there was vanilla, chocolate, green tea, strawberry, mango, etc.)
I didn't get a good picture of it, but the evening view from our dining area was beautiful. Since we were on top of a mountain, we could see all the lights from the city below us, and the vast Pacific Ocean in the background as well.
Recap of Tennomaru dinner
: The presentation was undeniable. I love that it not only tasted good, but it was presented so beautifully. You can tell they put a lot of effort to make each dish (and there were a lot) look beautifully plated. You definitely need to have an adventurous stomach. We didn't really know what we were eating, but were excited to try everything out. In true Japanese form, every dish was small but there was a lot of food options (in our case, lots of courses). For Darin, he didn't enjoy it as much as I did (and he is good about trying everything once.) I was getting full mid-way, and was stuffed by the time we waddled back to our room.
Our hotel class also included a breakfast. I thought it'd be a breakfast buffet type deal. Think breakfast buffet x 3. There were 3 sections of food for breakfast- 1 was Japanese, 1 was more geared for Americans, and the last station was soup, rice, etc. They even had a separate section for beverages- 3-4 juices, milk, and Japanese cold and hot teas. Everything looked so good, I couldn't stop eating.
"Rice Corner"
Beverage "Corner"
I started out by getting some yogurt and fruit
They gave us a large square plate with 9 small wells- I filled mine up completely with
yakisoba
(Japanese noodles), chicken nuggets, marinated smoked salmon, egg salad, macaroni salad, fresh pineapple, fruit jelly, tofu with ginger and green onions, and Chinese
shumai
(steamed dumplings).
I also poured myself a glass of cherry-grape juice
.. and some pork steam buns
Let's just say that Darin definitely ate his fair share.
Once we finished eating breakfast, we quickly packed up and got ready for our 9am shuttle. On our way out, we were given this postcard since we were celebrating Darin's (early) birthday
As we were leaving, the hotel employees all came out and thanked us for staying at Tennomaru. Again, our departure was marked by a hit to the gong as we left.
Pros
-
Hospitality
- In true Japanese form, the hospitality was great. The entire staff constantly bowed at us, thanking us for our stay. Whenever we saw a staff member, they smiled and bowed. They were very accommodating to switching our rooms, and assisted us with our luggage from the moment we saw the hotel shuttle. The staff was gracious, polite, professional, and very sweet.
-
Room
- I loved the decor of this room. It reminded me of a traditional Japanese-style room, which closely resembled the room at the
Hyatt in Kyoto
. From the sliding paper doors to the simple clean decor, I felt like I stepped back into old Japan. Not only did we like the decor, I felt very calm and peaceful in our room. In Japanese standards, this was a large room
-
Fantastic views
- Beautiful since the hotel was located on top of a mountain
-
Activities
- This could be a con or a pro, but there was nothing to do but to relax. We were quite confined to our hotel, and I loved that all we could do was relax
-
Dinner and Breakfast
- The selection was outstanding, and I loved trying all new foods that I normally wouldn't order at a restaurant. They presented each plate beautifully.
-
Futons
- The futons here were plush and so comfortable. I had a good night's rest.
-
Wireless internet in lobby
- Since I tend to get up earlier than Darin, I walked down to the lobby and hopped on the internet for a few hours. The internet was easy and quick
Cons
-
Shower
- When we walked out to our balcony, we saw our private bath and a shower area. This made sense- in Japanese baths, you always need to clean your body prior to entering an onsen. However, the outdoor shower was the only shower in the room. Unfortunately, it was pretty chilly the night we stayed, so we couldn't use our private bath. Thus, the next morning, it was still too cold for us to take a shower... outside
-
Smoke smell
- We switched rooms because of it
-
Non-English speaking staff
- The staff here could not speak English, but nothing that 2 hands and a smile can't translate
Overall, we really loved this hotel (though I think Darin was still a bit hungry after dinner since he didn't eat a lot), but due to its lack of non-smoking rooms, I can't go back :( I loved everything else about it- just make sure that if you get this room with a private onsen, that it is going to be warm outside when you take your shower!